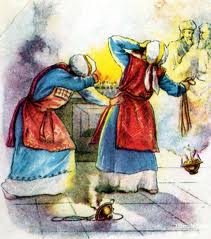 A Woe Is On Me
The Sacredness Of The Work
The minister stands as God's mouthpiece to the people, and in thought, in word, in act, he is to represent his Lord. When Moses was chosen as the messenger of the covenant, the word given him was, "Be thou for the people to Godward." [Exodus 18:19.] Today God chooses men as He chose Moses, to be His messengers, and heavy is the woe resting on the one who dishonors his holy calling, or lowers the standard set for him in the life and labors of the Son of God.
GW 20
The punishment that fell upon Nadab and Abihu, the sons of Aaron, shows how God regards those ministers who do that which dishonors their sacred office. These men were consecrated to the priesthood, but they had not learned to control themselves. Habits of self-indulgence, long cherished, had obtained a hold upon them which even the responsibility of their office had not power to break.
GW 20
At the hour of worship, as the prayers and praise of the people were ascending to God, Nadab and Abihu, partially intoxicated, took each his censer, and burned fragrant incense thereon. But they transgressed God's command by using "strange fire," instead of the sacred fire which God himself had kindled, and which He had commanded should be used for this purpose. For this sin, a fire went out from the Lord, and devoured them in the sight of the people. "Then Moses said unto Aaron, This is it that the Lord spake, saying, I will be sanctified in them that come nigh Me, and before all the people I will be glorified." [See Leviticus 10:1-7.]
GW 20
God calls for heart and devotion to the work. Those who are indeed laborers together with God, will carry the burden of the work, and like the minister whom He shall send, they will feel, "Woe is me if I fail to stand faithful and true to my position of trust."
2SM 214
Some of the servants of God have given up their lives to spend and be spent for the cause of God, until their constitutions are broken down, and they are almost worn out with mental labor, incessant care, toil, and privations. Others have not had and would not take the burden upon them. Yet just such ones think they have a hard time, because they have never experienced hardships. They never have been baptized into the suffering part, and never will be as long as they manifest so much weakness and so little fortitude, and love their ease so well. From what God has shown me, there needs to be a scourging among the ministers, that the slothful, dilatory, and self-caring ones may be scourged out, and there remain a pure, faithful, and self-sacrificing company who will not study their ease, but will minister faithfully in word and doctrine, willing to suffer and endure all things for Christ's sake, and to save those for whom He died. Let these servants feel the woe upon them if they preach not the gospel, and it will be enough; but all do not feel this.
1T 130
God's ministers must have the truth in their hearts in order to successfully present it to others. They must be sanctified by the truths they preach or they will be only stumbling blocks to sinners. Those who are called of God to minister in holy things are called to be pure in heart and holy in life. "Be ye clean, that bear the vessels of the Lord." If God pronounces a woe upon those who are called to preach the truth and refuse to obey, a heavier woe rests upon those who take upon them this sacred work without clean hands and pure hearts. As there are woes for those who preach the truth while they are unsanctified in heart and life, so there are woes for those who receive and maintain the unsanctified in the position which they cannot fill. If the Spirit of God has not sanctified and made pure and clean the hands and heart of those who minister in sacred things, they will speak according to their own imperfect, deficient experience, and their counsels will lead astray from God those who look to them and trust in their judgment and experience. May God help ministers to heed the exhortation of Paul to the Corinthians: "Examine yourselves, whether ye be in the faith; prove your own selves. Know ye not your own selves, how that Jesus Christ is in you, except ye be reprobates?" There is a work for you to do, my brother, if you gain eternal life. May God help you to do this work thoroughly, that you may be perfect and entire, wanting nothing.
Chicago, Illinois, Massasoit House, July 6, 1870.
2T 552