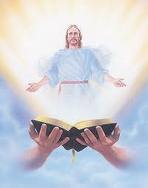 Name
Acts 4:12
Neither is there salvation in any other: for there is none other name under heaven given among men, whereby we must be saved.
We are sinners and need to in reverence and awe speak the Name of our Maker in confession and repentance of all sin and not with needless repetition.
Jesus has many Names. He is even identified with some of the same Names as God the Father. From Genesis to Revelation the word God is used to make known our Creator to us and show us His character.
The first chapter of the Bible lets us know that there was more that one person involved in the making of planet earth. Let us make man in our image after our likeness. God the Father, God the son, God the Holy Spirit, Three Persons.
When we are presenting the plan of salvation to English speaking people we want to use the language that they will understand and is used in the Bible. It does not need to be made confusing with a restriction of the original foreign tongue that we do not know how to pronounce.
All through the Bible and the Spirit of Prophecy God, Lord, Spirit, Jesus, and numerous other Names such as Jehovah, I Am, Messiah, Christ, are used to call attention to whom we are to worship. If we were not to use these names they would not be there
for us to use and share with others.
And we would have been told not to utter God`s Name on our sinful lips.
2 Thessalonians 1:12
That the name of our Lord Jesus Christ may be glorified in you, and ye in him, according to the grace of our God and the Lord Jesus Christ.
Matthew 1:21
And she shall bring forth a son,
and thou shalt call his name
JESUS: for he shall save his
people from their sins.
John 20:31
But these are written, that ye might believe that Jesus is the Christ, the Son of God; and that believing ye might have life through his name.
Acts 2:38
Then Peter said unto them, Repent, and be baptized every one of you in the name of Jesus Christ for the remission of sins, and ye shall receive the gift of the Holy Ghost.
Acts 4:10
Be it known unto you all, and to all the people of Israel, that by the name of Jesus Christ of Nazareth, whom ye crucified, whom God raised from the dead, even by him doth this man stand here before you whole.
Acts 15:26
Men that have hazarded their lives for the name of our Lord Jesus Christ.
Philippians 2:10
That at the name of Jesus every knee should bow, of things in heaven, and things in earth, and things under the earth;